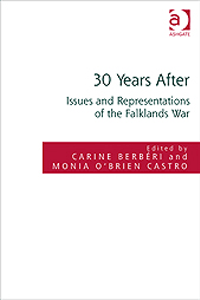 Auteur : 
Carine Barbéri, 
Monia O'Brien Castro (dir.)
Date de publication : janvier 2015
Thirty years after the Argentinian invasion of the Falkland Islands, the war remains a source of continued debate and analysis for politicians, historians and military strategists. Not only did the conflict provide a fascinating example of modern expeditionary warfare, but it also brought to the fore numerous questions regarding international law, sovereignty, the inheritance of colonialism, the influence of history on national policy and the use of military force for domestic political uses. As the essays in this collection show, the numerous facets of the Falklands War remain current today and have ramifications far beyond the South Atlantic.
Covering issues ranging from military strategy to Anglo-American relations, international reactions and international law to media coverage, the volume provides an important overview of some of the complex issues involved, and offers a better understanding of this conflict and of the tensions which still exist today between London and Buenos Aires. Of interest to scholars of history, politics, international relations and defence studies, the volume provides a timely and forthright examination of a short but bloody episode of a kind that is likely to be seen with increasing frequency, as nations lay competing claims to disputed territories around the globe.