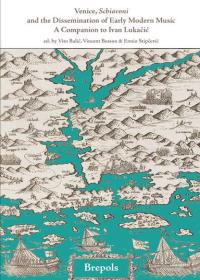 Auteurs : Ennio Stipčević, Vito Balić, Vincent Besson (Dir.)
Éditeur : Brepols
Laboratoire : CESR
Date de publication : Août 2022
This volume presents the musical opus of Ivan Lukačić (c. 1585–1648) as well as the music of his contemporaries active in littoral Croatian lands (Istria, Dalmatia, the Republic of Dubrovnik), which, although firmly marked with influences from Italy, still represented a unique synthesis of prima and seconda prattica.
Ivan Lukačić (born around 1585, died in 1648), composer, Conventual Franciscan, long-time "maestro di cappella" of the cathedral in Split, is a typical "hero" of local historiography. As early as 1935, the Croatian-American musicologist Dragan Plamenac (real name Karl Siebenschein) prepared a selection from the only known collection of Lukačić's compositions, the Sacrae cantiones (Venice, 1620). In the same year, Plamenac introduced Croatian Renaissance and Baroque music to the local audience for the first time at a concert held at the Croatian Music Institute. In the aftermath of Plamenac's emigration to the USA in 1939, it took several decades for new archival, stylistic, interdisciplinary, and international research in Croatian musicology to take place. Despite the availability of earlier material as well as contemporary musical publications of Lukačić's work (J. Andreis, Zagreb, 1970; E. Stipčević, Padua, 1986), it is not an exaggeration to say that Lukačić still remains unknown internationally. For many years, a number of studies of Lukačić and the music of his contemporaries from the "other, eastern coast of the Adriatic" published almost exclusively in Croatian and thus the international professional public had very limited access to them. This collection of studies dedicated to Lukačić and to the musical and cultural contacts between the two Adriatic coasts is the first volume to be published in both English and Italian. The echoes of the contacts between Italy and Croatia reached the Royal Palace in Portugal, shops selling printed music in Denmark and church archives in Slovenia and Poland. The aim of this book is to follow the traces of that cultural dissemination.